Greetings My Lords!

We would like to take this time to inform you about the upcoming Update on 4.25.2019!


■ Update

1. Level Cap increased to 70

ᆞCastle Rank 19~23 has been added

ᆞProduction Building: Dye Pit, Sugar Maple Tree, Glass Craft Shop, Jewelry Shop, Furniture Factory has been added.



ᆞPublic Building: Library, Cuckoo Clocktower, Art Gallery, Town Windmill has been added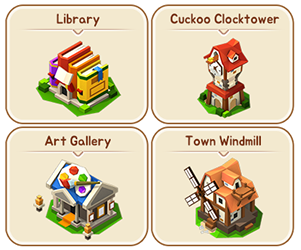 ᆞRecipe: Chocolate Syrup/Macchiato/Creamy Fish Pasta/Pudding/Mocha/Carrot Juice/Coffee Candy/Apple Cake/Choco Jam/Chocoberry/Café Americano/Clam Chowder has been added.

ᆞCraft Plans: Glass/Kettledrum/Magic Mirror/Cupid's Potion/Plate/Horn/Lamp/Girl Doll /Magic Broom/Ring/Bead/Reagent Kit/Necklace/Hand Mirror/Crystal Ball/Desk/Cure Potion

ᆞNew 13th Castle Story, "A New Comrade" has been added
- After reaching Castle Rank 15, check the story at Castle > Story

2. Guild Competition "Marine Sports" has been added.


■ Event

1. QubePop Mini Game
ᆞEvent Duration: 4. 25, 2019 7:00 AM ~ 5. 1, 2019 7:00 AM(UTC)
ᆞQubePop Limited Package Sale




2. Wedding Festival
ᆞEvent Duration: 5. 9, 2019 7:00 AM ~ 5. 15, 2019 7:00 AM (UTC)
ᆞWedding Festival Limited Package Sale





■ Balance/Adjustment Details

1. New quests has been added between Lv.7~10.

2. 3 Days of Gift (World Tree) Ruby Reward Adjusted
ᆞ20 Rubies (10 Rubies Rewarded on 2nd and 3rd day) → 21 Rubies (7 Rubies Rewarded on All 3 days)


■ Bug

1. An issue of some Guild names not showing up during the Guild search has been fixed

2. An issue of search button occasionally disappearing during the Hiring a Clerk tutorial has been fixed.

3. An issue of game crashing when linking the account to Facebook has been fixed.

4. An issue of game crashing when changing account in the Game Setting has been fixed.


We will always try our best to provide the best services to all our Lords!
As always, it is a pleasure to serve you my Lord!

Thank you!

Check us out on Facebook: https://www.facebook.com/QubeTown