Greetings My Lords!

We want to share the details on the upcoming update on October 30th with you!


■ UPDATE NOTE

1. New Rank 3, 4 visuals for animals has been added
ᆞLegend (Red Dragon, Yeti, Unicorn, Phoenix)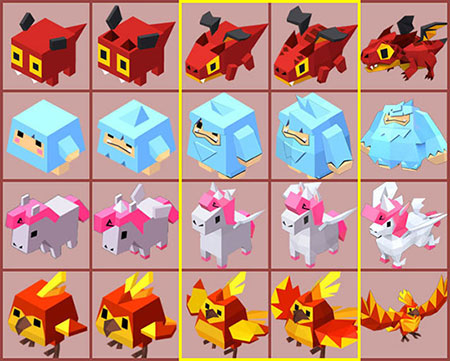 2. Reward process for Whale Shop after filling up all 3 lines has been changed.
ᆞBefore change: Whale automatically goes out for delivery
ᆞAfter change: Tap Send button > Delivery Reward pop-up gets displayed > Whale goes out for delivery

3. One of Whale Shop's reward, Red Clover(animal feed)'s appearance rate has been raised up to 100%.

4. UI for Tommy's Watch Ad request at Dragon Shop has changed to make it look more stick out.

5. Issue with Help alarm function not working occasionally has been fixed.

6. Issue with Tutorial not being able to be completed if network error has occurred while proceeding Tutorial has been fixed.

7. Level of some materials requested at Elephant Shop has been adjusted
ᆞJack-o'-lantern: 59Lv > 60Lv
ᆞCourage Potion: 46Lv > 51Lv
ᆞCupid's Potion: 60Lv > 62Lv

8. EXP required to reach Level 3, 4, and 7 has been reduced
ᆞBecause required EXP for Level 3, 4 and 7 has been reduced, some Lords may level up due to added extra EXP.

9. Balance of Ruby dispense has been adjusted.

10. Optimization has been made to address various tasks including mobile phone overheating issue, reducing loading time etc.
It has been our pleasure, My Lords.
-QubeTown
Check us out on Facebook: https://www.facebook.com/QubeTown