12.6.2018 Update Details
12/6/2018 1:20:01 AM
Greetings My Lords!

We would like to take this time to inform you about the upcoming update!


■ UPDATE NOTE

1. Winter is here in QubeTown!.
ᆞ A White Winter Wonderland visits our quaint QubeTown as fluffy snow covers the land.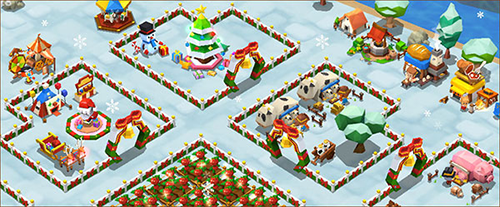 2. Christmas Exclusive Landscape Sale
ᆞSale Period: (UTC) 12.6.2018 ~ 1.3.2018 10:00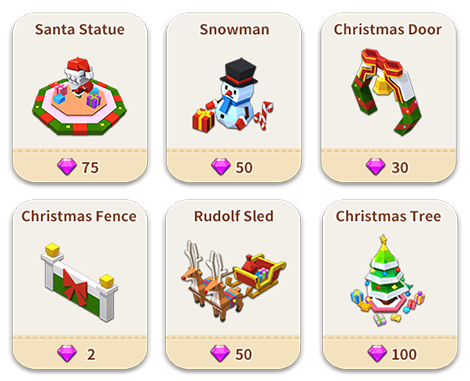 3. New indicator icons are being added to better assist you, my Lords!
ᆞA bubble will appear above any skipped contents and when you tap on the bubble, it will guide you directly to the appropriate content.




4. Account Link button has been added to Character Creation screen.
ᆞIn case of a device change or disconnection of an account, you can now retrieve and link your account on the Character Creation screen.

5. Update on helping your Friend's Village (Lord-Next-Door).
ᆞThe reward after the tutorial of visiting Arum's town has changed. (Corn -> 100 Gold)
ᆞThe issue with the reward for helping your Friend's Village being a Corn after Level 30 has been fixed.
ᆞThe reward for helping your Friend's Village will now vary based on your current Level.

6. Returning to the game after being idle for more than 5 minutes will now reboot the game.


■ Balance Update

1. The number of necessary Recipes and Plans to upgrade a Production Building has been adjusted.

2. Price for Fences in Landscape has been adjusted

3. Field Characters
ᆞMaterials requested by Field Characters have been adjusted.
ᆞReset time for reward from Field Characters has been adjusted.

4. Rescue Mission duration is adjusted to slowly increase after completing the mission.

5. The cost to expand slots in buildings has been adjusted


■ Bug Fix

1. Field Character Hubert walking on water has been fixed.

2. Guild Chat System not displaying new messages or pushing new messages to the bottom has been fixed.

3. Only refreshing Arum's store after Store Refresh in Trade District Island has been fixed.

4. The issue of Level 60 Dragon Shop Key Treasure Chest only rewarding 9 keys has been fixed.

5. The issue of quantity of items listed on Arum's market in Trade District Island being all same has been fixed.

6. The issue with Pirate Caravan not having pumpkin in the list has been fixed.

7. Name of Citizens with duplicate name has been fixed.
ᆞThe name of 2 Citizens that had the same name as the citizens that already exist in the collection has been changed. (Kukuri -> Mercury / Mason -> Doug)

We will always try our best to provide the best services to all our Lords!
As always, it is a pleasure to serve you my Lord!
Thank you!

Check us out on Facebook: https://www.facebook.com/QubeTown